Welcome all pooch lovers
Paris Doggie Ware is New Zealand's home of dog apparel where you can find items to dress your pooch in style. We have a wide range of items such as, dog jackets, dog coats, dog pyjamas, dog bow ties, dog harnesses, dog leads & leashes and much more...
Explore Our Range
A little bit about us
Living rurally in New Zealand with three children, the house was busy and loud.  With cows to milk on the farm, chickens to feed, and two cats, life was busy, but what else did we need to complete the family…but one dog!!
As a family we fell in love with a friends Standard Schnauzer, Maggie, complete with her exuberance for jumping on picnic tables.  Feeling a Standard Schnauzer was too big we opted for a Miniature Schnauzer.  We placed out name down at a good breeder and after a few months our beautiful Salt and Pepper Miniature Schnauzer arrived home. 
The children named her, Paris.  Officially Paree but to us she was Princess Paris Puddles Palmer or affectionally known as Hoover, Pup or My Baby.  For seven wonderful years she was part of ours and my Mums life, doing everything with us.  Joining us on fishing trips, in the car to kids' events, to the beach, trips to the snow, staying over at Nana's, sleeping in Hannah's and Nana's bed, kayaking and paddle boarding…she was just perfect!
It had been raining for a few days and we had flooded on the farm, and we thought Paris was just sad and wanted the rain to go away.   The next day, she still wasn't any happier, so we promptly took her to the vet.  Sadly, she passed away with kidney failure.  Broke our hearts to say the least. 
It took a long while to decide to get another one.  When we did decide to get another Salt and Pepper Miniature Schnauzer, as she was due to come home in Winter, I decided to get her a winter coat.  Searching I came across the Alpine All Weather Coats.  I imported one from the USA and I was immediately impressed with the quality and warmth of these coats.  I then emailed the supplier asking if they would supply me coats in New Zealand.  As no one else is selling these in New Zealand they said "Yes!" – So, Paris Doggie Ware was born.  Part in memory of Paris our beloved Miniature Schnauzer and partly as I love these products.  So, let me
"DRESS YOUR POOCH IN STYLE"
Maree
Email:  parisdoggieware@gmail.com
Follow us on Instagram https://www.instagram.com/parisdoggieware/
Keep Your Furry Friend Warm This Winter
---
Blog
---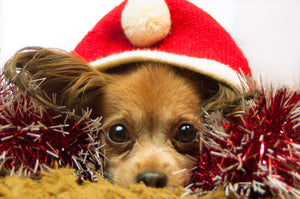 The holiday season is upon us, and what better way to show your furry friend some love than by treating them to a stylish wardrobe upgrade? While the idea of...
Halloween is just around the corner, and in New Zealand, this spooky holiday is becoming increasingly popular. While many humans gear up for Halloween with costumes and decorations, our furry...
As wedding season approaches, many pet owners find themselves contemplating how to include their furry family members in their special day. Dogs have become cherished members of our households, and...
MEET EVIE
Evie is this little cutie that lives in Paraparaumu.  Recently her Mum, Lynley purchased a Puffer Coat, as Evie is off to evening obedience classes and wanted to keep the evening chill out and Evie warm.  I think she looks just awesome in it.  Good luck with the obedience classes I know you will be  a star!!